Chair of Pre-Modern Art History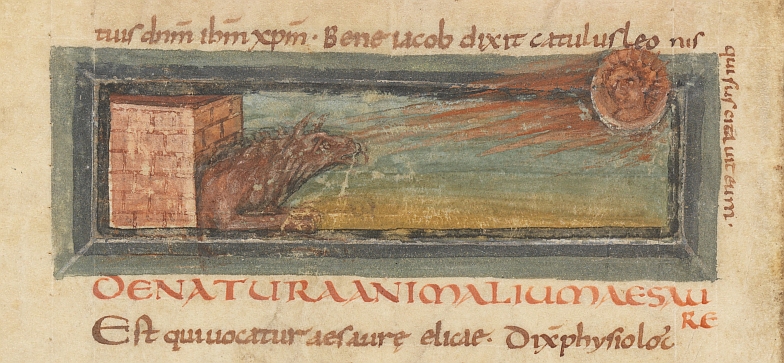 Profile
The Chair of Pre-Modern Art History is devoted to the study of medieval visual culture. The core of the Chair's focus is the relationship between various artefacts, materials, and cultural context in the medieval arts, as well as the production, use, perception, staging, and circulation of these objects in sacred and profane spaces, both private and public. Seminars and lectures introduce students to various techniques of art production, as well as the theory, history, and historiography of medieval art. An emphasis is placed by the Chair on interdisciplinarity as well as global networks and connections that traversed the medieval world, for example in the current ERC-project "Global Horizons in Pre-Modern Art".
The course of study offers a deep foundation in knowledge about materials, techniques, genres, epochs, and a variety of themes essential to medieval art history. It offers students a broad methodological base and encourages the cultivation of innovative research perspectives to address emerging paradigms in historical research. Members of the Chair work closely with museums and research institutes in Switzerland and abroad; they participate in interdisciplinary, international research programs, colloquia, and conferences.
Team
Beate Fricke, Dr., Full Professor
Katharina Böhmer, M.A., Editor "21: Inquiries"
Alessandra Fedrigo, Student research assistant
Theresa Holler, Dr., Postdoctoral research/lecturer
Laura Hutter, Student research assistant BMZ
Amélie Joller, Student research assistant
Gina Ketterer, Teaching assistant (Grundkurs)
Stefanie Lenk, Dr., Postdoctoral research fellow
Joanne Luginbühl, Student research assistant
Meekyung MacMurdie M.A., Postdoctoral research fellow
Mariko Mugwyler, Student research assistant and teaching assistant (Grundkurs)
Saskia C. Quené M.A., Predoctoral research fellow
Leonie Singer, Student research assistant
Former team members
Jess Bailey M.A., Predoctoral research fellow
Matthias Egger, Tutor
Corinne Mühlemann, Postdoctoral research fellow
Andrew Sears M.A., Predoctoral research fellow
Dominique Wyss, Student assistant and tutor
Research projects
Current research projects
Das andere Herbarium: Literatur und Kunst als Heilmittel (Theresa Holler)
Global Horizons in Pre-Modern Art (Beate Fricke)
Object Histories. Early Modern Flotsam. For this project she was awarded a collaborative research grant from the American Council of Learned Societies, (Beate Fricke together with Finbarr Barry Flood).
Relics on the Market: The Cult of St. Ursula and the Hanseatic League, 1200-1500 (Andrew Sears)
Trading Architecture analyses the loci of exchange of merchandise, knowledge and culture in the Mediterranean with the Middle and the Far East (Beate Fricke)
Completed research projects
Crossing the Mediterranean. Art, Trade and Transfer of Knowledge (Dittelbach)
Seestädte des Südens. Transformationen (Dittelbach)
Optical Concepts - Conceptual Optics in the Mediterranean (Dittelbach)
Kunst als Kulturtransfer 1400-1600 (Gramaccini)
Semantiken des Sehens. Kunstproduktion und Kulturen des Blicks im Mittelalter (Preisinger)
Geschichte des Reliefs 1400-1800 (Lehmann)
Theses
Begonnene Dissertationen
Jess Bailey (betreut zusammen mit Elizabeth Honig) - Urs Graf
Maximilian Geiger (betreut zusammen mit Karin Leonhard) - Rubens und die Immanenz des Bildes
Andrew Sears - Relics on the Market: The Cult of St. Ursula and the Hanseatic League, 1200-1500
Abgeschlossene Dissertationen
Andrew Griebeler (betreut zusammen mit Diliana Angelova) - Illustrated Greek Herbals (2nd-15th century)
Abgeschlossene Masterarbeiten (Gramaccini)
Francisca Lang: das Kirchner-Inventar Eberhard W. Kornfeld.
Caroline Montandon: Johannes der Täufer von Giulio Campagnola als Beispiel einer Datie¬rungsmethode druckgraphischer Blätter.
Denise Hug: 'Vom internationalen zum Schweizer Künstlerplakat' – Das Plakatwerk von Karl Bickel. Eine Einordnung in die Schweizer Plakatkunst.
Abgeschlossene Lizenziatarbeiten (Gramaccini)
Tamara Fullin (Horw): Die literarische Textilillumination zum Inferno der Divina Commedia von Alfonso d'Aragona König von Neapel.
Sandra Gugger (Bern): Die Fensterdekorationen der Friedrichwohnung im Neuen Palais in Potsdam. Der Versuch einer Rekonstruktion der Geschichte des Fenstervorhangs im 17. und 18. Jahrhundert.
Anna Bächtold (Zug): Von Erbach nach Interlaken, Elfenbeinschnitzerei und Souvenirhandel um 1900.
Sandra Geiger (Bern): Das Gebetbuch Karls des Kühnen. Kopie in der niederländischen Buchmalerei des 15. Jahrhunderts.
Nina Jaklic (Luzern): Cappella Brancacci: la rivoluzione nell'abbigliamento tra il tardo Medioeve ed il Rinascimento.
Christoph Messerli (Bern): Von der Souvenir- zur Studio¬keramik. Die Berner Keramik im 19. und 20. Jahrhundert.
Christian Féraud: 'Salomon Gessner als Vedutenstecher'. Die Landschaften für den Helvetischen Calender 1780-1788'.
Catharina Vogel: 'Vom Brustbild eines Grafen Sforza zum Bildnis des Grafen Francesco Sforza Cesarini'. Eine Werkanalyse im Spannungsfeld der Rezeption Giovanni Boldinis.