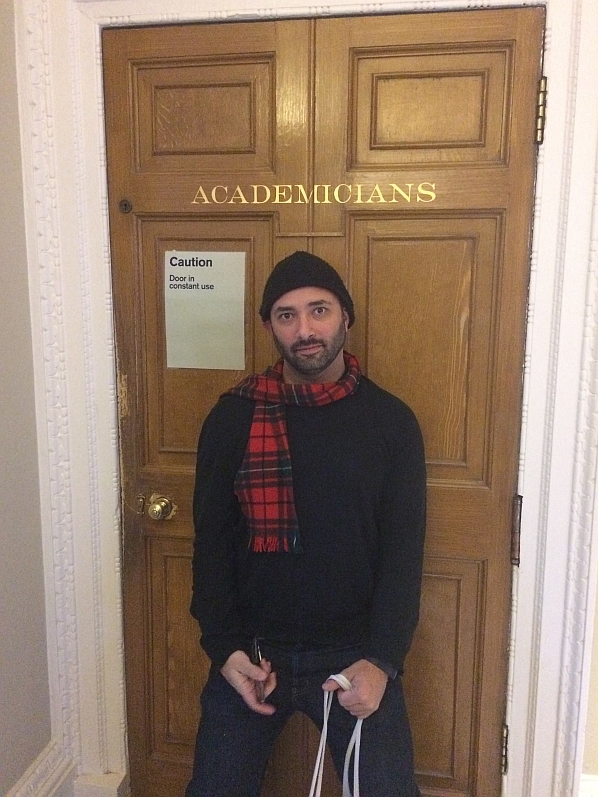 M.A. Sasha Rossman
Wissenschaftlicher Mitarbeiter
Abteilung für Kunstgeschichte der Neuzeit
E-Mail

Büro

152

Postadresse

Institut für Kunstgeschichte
Mittelstrasse 43
3012 Bern
Forschungsschwerpunkte
Material Culture
Interiors, History of Furniture, History of Design
Cartography and Border Studies
Film and Critical Theory
Political Iconography
History and Theory of Capitalism
Corners, Holes, Ceramics, Games, Office Supplies, Foodways, Birds Nests
Contemporary Art
Dissertation "On the Table: Episodes in the Political Life of an Early Modern Object" (UC Berkeley, History of Art with Elizabeth A. Honig, Margaretta M. Lovell, Niklaus Largier, Beate Fricke)
Ausstellungsprojekte
"The Plate Show" (Berlin/Basel, forthcoming)
"Das Loch" (exhibition at the Künstlerhaus Bremen, 2016 with Fanny Gonella)
Metropolitan Museum of Art, New York: Visiting Research Fellow in the Department of Prints and Drawings (2015) [courtesy of the Mellon Curatorial Internship Fellowship]
Drafts Establishing Future (a project of abc berlin, 2009, with Hella Gerlach)
Lehre
HS 2020
Proseminar: Still-Life
FS 2020
Proseminar: Wimmelbilder! Die Welt in Pieter Bruegel
HS 2019
Proseminar: Vermeer (introduction to the Art of the Dutch Golden Age)
Mitgliedschaften
Netzwerk Topographische Bildmedien
https://www.arthistoricum.net/netzwerke/ntb/
Netzwerk Berührung: Literarische, Mediale & Politische Figurationen (associated)
http://www.netzwerk-beruehren.de/programm.html
Publications
"On Neutral Grounds: Gerard Ter Borch's The Swearing of the Oath of Ratification of the Treaty of Münster, 15 May 1648" in, Le Fond de l'œuvre. Arts visuels et sécularisation à l'époque moderne, eds. Emilie Chedeville, Etienne Jollet, Claire Sourdin, Paris, Editions de la Sorbonne, coll. "Histo.art" 12, 2020 (forthcoming).
"The Antoinette Effect: An Interview with Simon Fujiwara," Journal18 (December 2019), http://www.journal18.org/4492.
"Entgrenzte Souveränität. Der Schurke als Spiegel der Macht in Mad Max, Captain Phillips und Mission Impossible" (with Yumin Li) in Medialisierung der Macht: Filmische Inszenierungen politischer Praxis, eds. Irina Gradinari, Nikolas Immer, Johannes Pause, 255-272. Paderborn: Fink, 2018.
"Das Reale der Gummihandschuhe: Zur Taktilität in Robert Wienes Orlac's Hände" (with Sebastian Haselbeck) in Augenblick: Konstanzer Hefte zu Medienwissenschaften (Heft 69/70, 2017), 31-48.
"On Border Play in Eighteenth-Century Europe" in Journal 18: A Journal of 18th-Century Art and Culture. http://www.journal18.org/nq/on-border-play-in-eighteenth-century-europe-by-sasha-rossman/ (October, 2016).
"Border Spectacle: 'Europe' at the Edges of Representation" in Transit: A Journal of Travel, Migration, and Multiculturalism in the German-speaking World (Vol. 10, Issue 2, 2016).
"The 'Cutting Edge' of Fashion: Designs for the Decoration of Arms and Armor on Paper" with Femke Speelberg, The Metropolitan Museum of Art Blog, Posted: Thursday, April 16, 2015.
"Transitional Objects. The Postwar Werkbund and the Design of New, West-German Subjects (1948-1968)" in Room One Thousand, Issue 1 (2013)
Stipendien
DAAD research fellowship at the University of Konstanz, 2015-2016
Mellon Curatorial Internship Fellowship at the Metropolitan Museum of Art, New York, 2015
Netzwerk Transatlantische Kooperation at the University of Konstanz: visiting scholar fellowship summer 2015
University Regent's Fellowship at the University of California, Berkeley, 2011-2014
DAAD, Deutschlandjahr (Humboldt Universität zu Berlin), 2002-2003